See also: Picture Gallery 2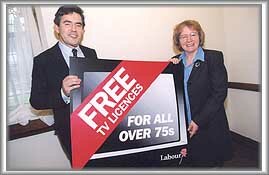 Anne and Gordon Brown at the launch of the Free Tv Licences for over 75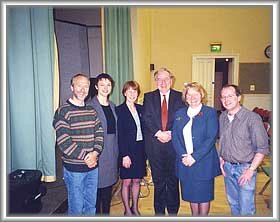 Anne, Sylvia and George Foulkes MP, Minister for International Development at a recent meeting in Stirling on World Debt
Cathie and Anne at the Stills

Pictured Anne McGuire MP and neighbouring Cumbernauld and Kilsyth MSP Cathie Craigie on a visit to Glengoyne Distillery. The distillery is situated in Dumgoyne, by Killearn and the whisky produced is sold worldwide. The Stirling constituency is also home to Deanston Distiller, just a few miles outside Dunblane.
At the Chinese Centre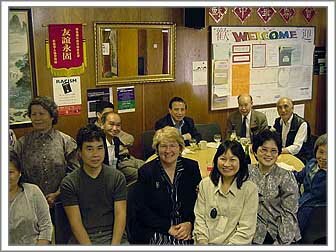 Anne McGuire paid a courtesy call on the Chinese community centre in Bannockburn recently. Anne was the guest of the Chinese Association Family Centre and joined some of the older members for lunch.
Anne said, "The Chinese community are well established in the Stirling area and play an important part in our local economy. The Family Centre is a fine example of a project offering specialist social and cultural support to this small minority community. I was certainly impressed by the range of services offered by the dedicated group of staff and volunteers"
The Killearn to Strathblane Millennium Fun Run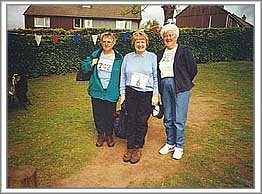 Anne gets ready to take part in the Killearn to Strathblane Millennium 10k in Aid of Water Aid with two willing participants. The Run and Ramble took place on 20th May 2000. Around 500 people took part from all over Stirlingshire. Anne officially started the race before walking the 6.2miles of the course.
Riding for the Disabled
Pictured Anne McGuire and some of the staff and pupils at the Sauchieburn Riding for the Disabled Centre. The local volunteer centre project provides great enjoyment for all those involved.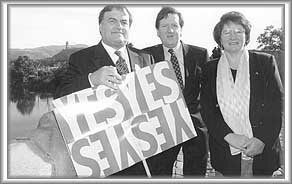 Anne, with Deputy Prime Minister John Prescott and former defence Secretary Lord Robertson during the YES YES campaign for the Scottish Parliament. photo taking at Stirling Bridge
Tongans on Commonwealth Youth Exchange to Britain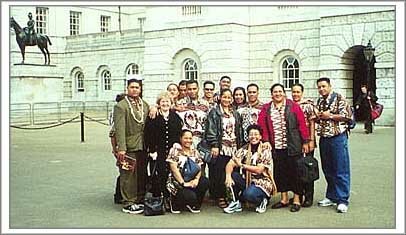 Pictured Anne and some young Tongans on a visit to Britain as part of the Commonwealth Youth Exchanged. Anne recently became one of the Vice Presidents of the UK Commonwealth Youth Exchange. The exchange helps to promote greater understanding and knowledge between young people in the Commonwealth countries.
Next: Picture Gallery 2