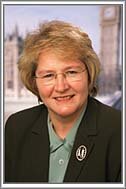 Married for 32 years to Len, chartered accountant with local business interests. Has two children, Paul and Sarah, both grown up. Lived in Cumbernauld since 1972.
Parliamentary Career
Elected to the House of Commons in May 1997, having defeated the then Secretary of State for Scotland, Michael Forsyth. Anne was the Parliamentary Private Secretary to the Secretary of State for Scotland from November '97 to July '98. In July '98, Anne became an Assistant Government Whip and was appointed a Lord Commisioner to the Treasury in June 2001. In June 2002 Anne became Parliamentary Under Secretary at The Scotland Office. Following the Scotland Office's incorporation in the new Department of Constitutional Affairs, Anne was appointed Parliamentary Under Secretary of State in that department with responsibility for Scotland.
Previous Occupation
Depute Director, Scottish Council of Voluntary Organisations, based in Edinburgh, but with a Scottish wide remit. Headed for the SCVO on European Structural Funds, rural development, equal opportunities and strategic planning.
Education
Our Lady and St. Francis' Secondary School, Glasgow.
University of Glasgow - MA (Hons) Politics with History
Notre Dame Teacher Training College, Glasgow.

Other Interests
Anne is a trained teacher but has gained most of her work experience in management in the voluntary sector. She has also worked with multi-disadvantaged young people and adults with learning difficulties and was one of a small group of volunteers who pioneered home based care for the latter.
She has also been a member of the Children's Panel. Until recently she was a Safeguarder for Children, being called in by either Panels or Sheriffs when the interest of the child needed further protection.
Anne has also studied the development of public services in Sweden, USA and in the newly emerging areas of Eastern Germany.
Anne is also a Vice President of the Commonwealth Youth Exchange Council
General
Anne has been a senior member of the Labour Party's Scottish Executive and was chair of the party in 1992/93.
In addition to her political activities, Anne enjoys walking, she is a keen cook and devotee of Scottish Ceilidh Dancing.
Contacting Anne McGuire MP
You can write to Anne at
22 Viewfield Street
Stirling
FK8 1UA

Tel:
Fax:
Email:

You can also contact Sylvia Jackson MSP for Stirling at the same office